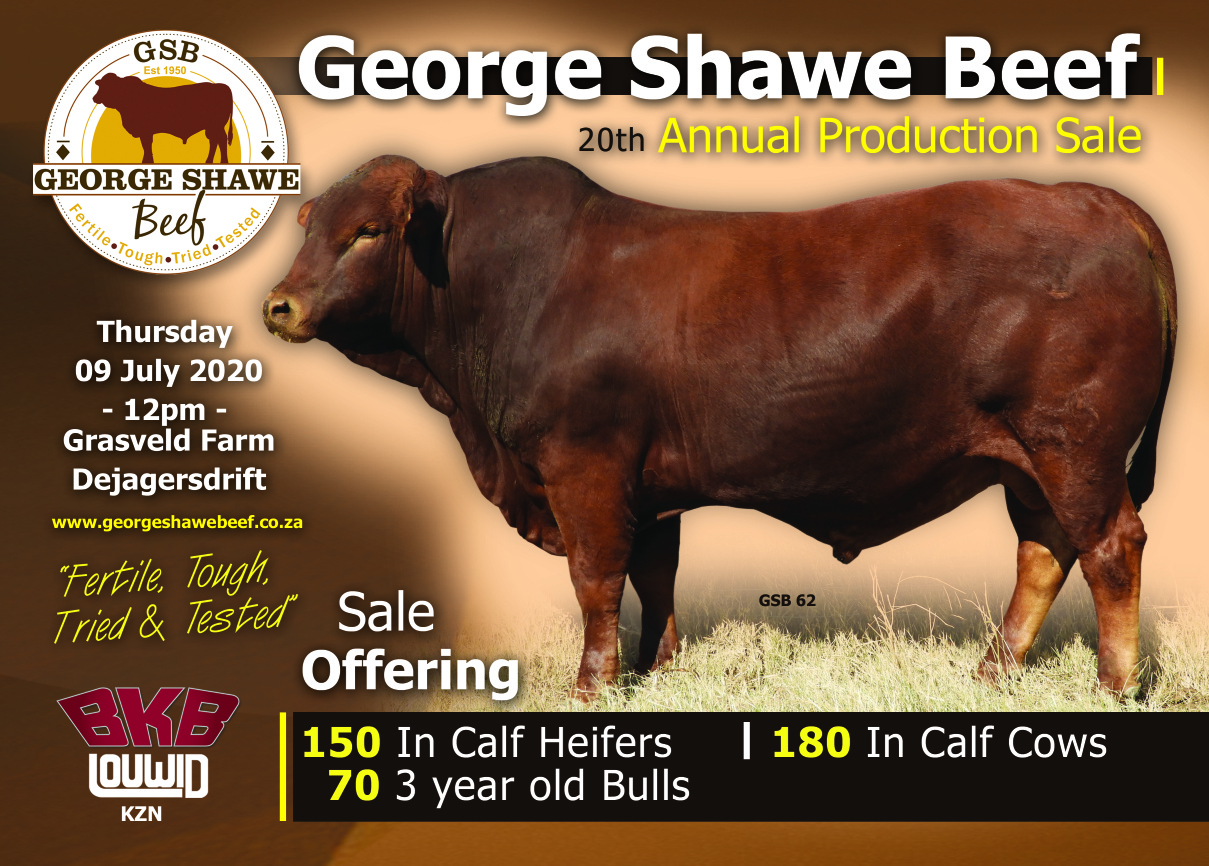 GEORGE SHAWE BEEF 20TH ANNUAL PRODUCTION SALE INFORMATION
---
The 20th annual production sale of George Shawe Beef takes place on 9 July 2020 on the farm Grasveld, and as a digital auction.
On offer:
70 Bulls
150 Heifers
180 Cows
Viewing: 
Notes: 
Selection of cattle based on six essentials, namely disposition, fertility, weight conformation, milk production, and hardiness. Cattle are reared under extensive Redwater and Gallsickness conditions.
Inoculations include Antrax, Quater Evil, Botulism, Vibrosis, Lumpy Skin, CA, BVD, Gallsickness. Cattle are injected with Express FP5 and are fully dewormed.
Bulls are tested for fertility, TB, CA, BVD, and are free from Trichomonosis.
70 Bulls are selected from 600 bull calves that have undergone the Veld Bull Test supervised by Dr. Hannes Dreyer. The cowherd is ranched on the veld. Average herd conception 90%.
Route:
Follow BKB directions from Dejagersdrift turnoff.
Enquiries:
George Shawe (owner) – 034 940 0914 or 082 851 2039
Office – 034 940 0914 or 082 579 5996
Webpage – www.georgeshawebeef.co.za
Stoffel Mouton – 082 329 0225
Brokkie Brockman – 084 429 3091
BKBLouwid, KZN – 034 215 1261/5
Auction Pamphlets:
Click here to view event pamphlet 1
Click here to view event pamphlet 2
Click here to view event pamphlet 3
Click here to view event pamphlet 4
Click here to view the digital catalogue
Video: