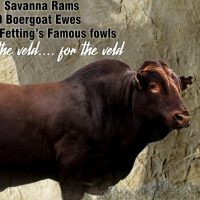 ALPHAETON BONSMARA SIMULCAST INFORMATION
---
The Alphaeton Bonsmara Production Sale will take place on Friday the 4th of September 2020 from 12h00 on the farm Alphaeton, Fort Beaufort.
Tested on the veld… for the veld
Route: 
From Fort Beaufort: Turn on the R67 to Grahamstown. Drive 3.9 km, turn right, drive 9.7 km. Turn left into the farm.
On Offer:
30 Bulls
30 In calf Heifers and Cows
25 Open Heifers
25 Open/Pregnant Heifers (Guest sellers)
10 Boergoat Rams
8 Savanna Rams
60 Boergoat ewes
8 lots of Fetting's Famous fowls
Enquires:
Jonathan Fetting: 084 657 4514
Darryl Fetting: 073 190 0284
Tony Burger (BKB): 082 456 9143
Brendan Wicks (BKB): 063 451 5076
Click here to view the event flyer