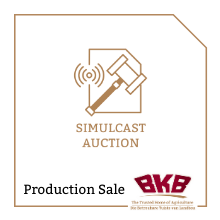 MARITZ BOVELDERS & BOSHOEK BOVELDERS INFORMATION
---
The Maritz-and Boshoek Bovelders auction will take place on Wednesday, 11 August 2021 from 11:00 at Boshoek, Memel. Auction on terrain and digital. In accordance with Covid-19 safety regulations only buyers will be allowed day of auction.
On offer:
– 80 Top Bovelder bulls
Viewing days:
22 July 2021:
12:00-14:30 by Boshoek Bovelders.
14:30-17:00 by Maritz Bovelders.
Enquiries:
Paul de Bruyn 079 882 1138
Wentzel Vorster 082 566 1369
Dr. Chris Nel 083 654 9638
Dr. At Viljoen  082 440 7823
Richard Haupt  081 011 8288
Afslaer: Jan Mostert  083 306 8408
Auction pamplet:
– Click here to view outside page of auction pamphlet