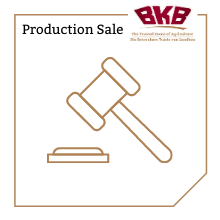 CAPE BORAN PRESTIGE SALE INFORMATION
The Cape Boran Prestige Sale will take place on Saturday the 13th of November from 11:00 on the farm Rietvlei, Mosselbay. The auction will be on terrain and digital.
On offer
49 SP Boran females
7 SP Boran bulls
Free delivery to the bullring and Port Elizabeth.
Click here to view the auction catalogue
Route
5 km west of Mosselbay on the N2 next to the fuel station.
Enquiries
BKB Veilings Humansdorp 0878204532
Jan Erasmus (Manager Humansdorp office) 0829246096
Johan van der Nest (Auctioneer) 0825744220
Rabie Loubser 0846160401
Renier Zietsman 0824915182
Andrie Visser (Agent) 0832705703
Fanus Muller (Agent) 0765776744
Pieter Schutte (Agent) 0824965986
Ro'an van Tonder (Meerkat) 0825670069