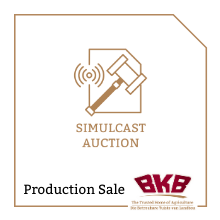 CENTRAL REGION BRANGUS INFORMATION
---
The 9th March to the North sale of the Central Region Brangus Club will take place on Wednesday, 25 May 2022 from 11:00 at the Parys Afri-dome. Auction on terrain and digital.
On offer:
– 40 Bulls.
– 100 Female cattle.
* Note:  Gestation status and catalogue information will be available day of sale.
---
Enquiries:
Salty de Villiers 073 816 4956
Auctioneer: Jan Mostert 083 306 8408
BKB, VEREENIGING: 016 423 5377
Auction pamphlets:
– Click here to view English auction pamphlet
– Click here to view Afrikaans auction pamphlet
Auction catalogue:
CENTRAL REGION BRANGUS VIDEOS