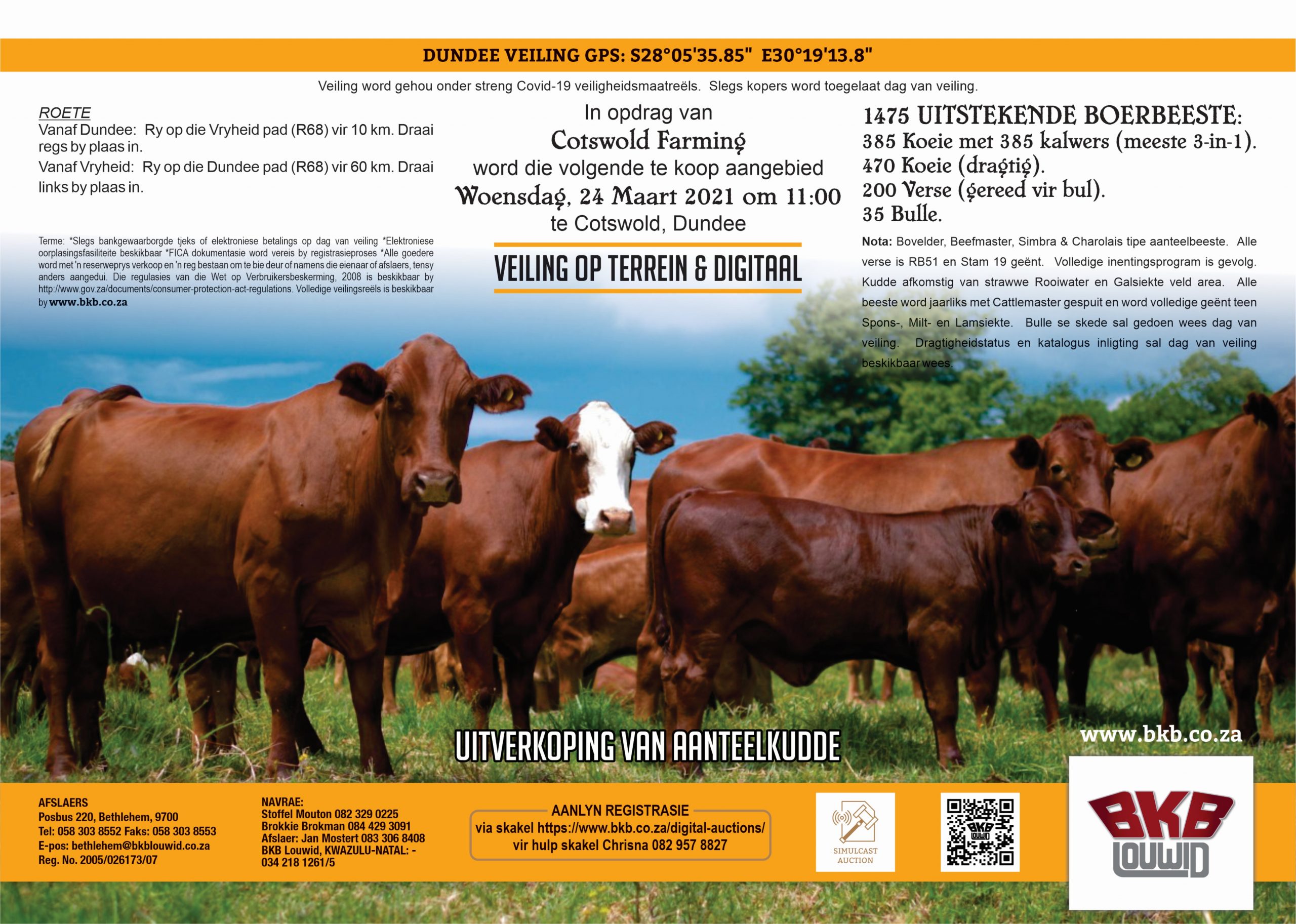 COTSWOLD FARMING DISPERSAL SALE INFORMATION
---
The dispersal sale of Cotswold Farming's breeding herd will take place on Wednesday, 24 March 2021 from 11:00 on the farm Cotswold, Dundee. Auction on terrain and digital. Auction held under strict Covid-19 safety regulations.  Only buyers will be allowed day of sale.
On offer:
1475 Excellent farming cattle, consisting of:
– 385 Cows with 385 calves (most 3-in-1).
– 470 Cows (in calf).
– 200 Heifers (bull mature).
– 35 Bulls.
* Note:  Bovelder, Beefmaster, Simbra & Charolais type breeding cattle. All heifers inoculated with RB51 and Stam 19.  Complete inoculation programme is followed. Herd from tough Red Water and Gallsickness veld area.  All cattle inoculated with Cattlemaster annually and fully inoculated against Quarter Evil, Anthrax and Botulism.  The sheaths of the bulls will be done before day of sale.  Gestation status and catalogue information will be available day of sale.
---
Route:
– From Dundee:  Drive on the Vryheid road (R68) for 10 km. Turn right at farm entrance.
– From Vryheid:  Drive on the Dundee road (R68) for 60 km. Turn left at farm entrance.
Enquiries:
Stoffel Mouton 082 329 0225
Brokkie Brokman 084 429 3091
Auctioneer: Jan Mostert 083 306 8408
BKB Louwid, KWAZULU-NATAL: 034 218 1261/5
Auction pamphlets:
– Click here to view English auction pamphlet
– Click here to view Afrikaans auction pamphlet
Auction catalogue: