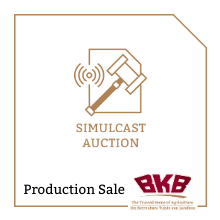 Evenwyd Bonsmaras production sale INFORMATION
EVENWYD BONSMARAS PRODUCTION SALE
The Simulcast Evenwyd Bonsmaras production sale will take place on the 8th of July from 11:00 in the Memel district
On Offer:
40 SP bulls
30 SP female animals
120 Commercial female animals
Click to view digital catalogue
Route:
From Vrede – Take the R34 direction Memel for 50km. Farm on the left. Follow directions
From Memel – Take the R34 direction Vrede for 5km. Farm on the right. Follow directions
Auction note:
Registrations: http: /www.bkb.co.za/digital-auctions/
Or scan the "QR Code" for registration.
"Log in detail" is emailed, within 30min of registration.
Contact Chrisna 082 957 8827 if help is needed.
Enquiries:
Boetjan van der Wath 072 626 9242
Carel Davel                  082 331 1811
Frik Verster                  082 652 2132
Evenwyd Bonsmaras production sale GALLERY