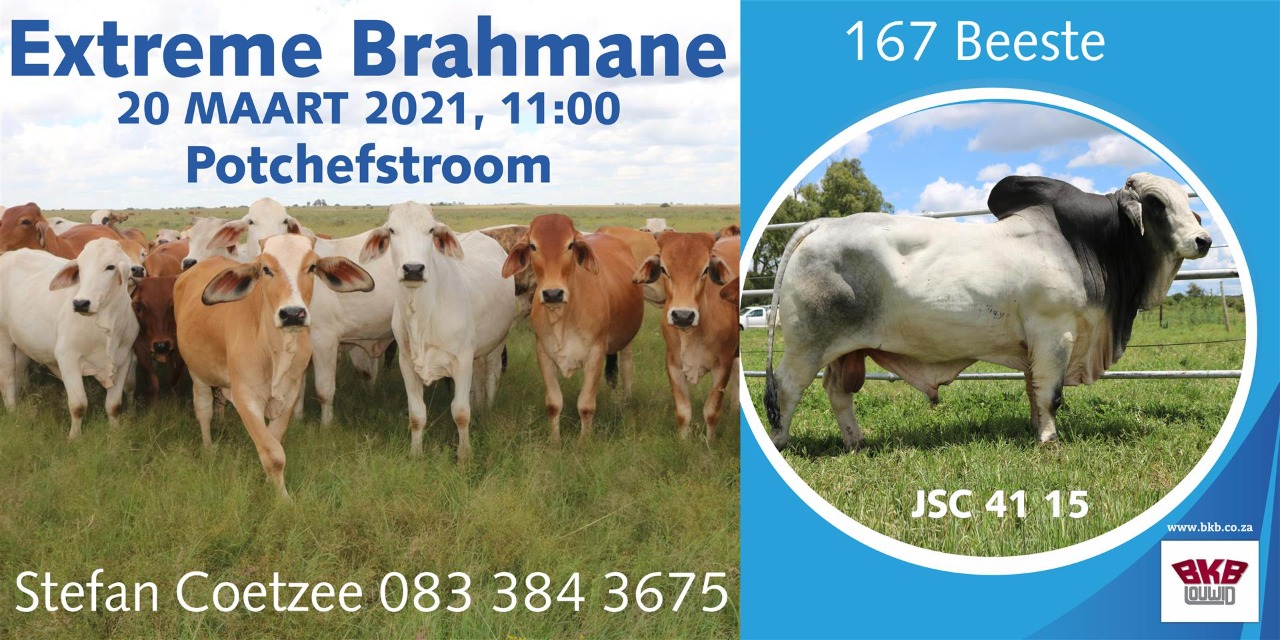 EXTREME BRAHMAN PRODUCTION SALE INFORMATION
---
The production sale of Extreme Brahman Stud will take place on Saturday, 20 March 2021 from 11:00 on the farm Katdoornbos, Potchefstroom.  Auction will be held under strict Covid-19 safety regulations.
Only buyers will be allowed day of sale.
On offer:
– 2 Proven herd sires.
– 5 SP Bulls.
– 40 SP Females.
– 120 Commercial females.
* Note:  Gestation status and catalogue information will be available day of sale.
---
Route:
– From Potchefstroom:  Drive on the Carletonville road for 22km.  Turn left on the Rysmierbult road.  Drive 5km.  Turn right at farm.
– From Rysmierbult:  Drive on the Potchefstroom road for 18km.  Turn left at farm.
Enquiries:
Riaan Herbst 076 154 5049
Stefan Coetzee 083 384 3675
Auctioneer: Jan Mostert 083 306 8408
BKB Louwid, VEREENIGING: 016 423 5377
Auction pamphlet:
– Click here to view front page of auction pamphlet
– Click here to view back page of auction pamphlet
Auction catalogue: