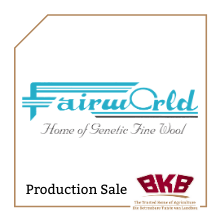 FAIRWORLD MERINOS INFORMATION
The Fairworld Merinos Simulcast Production sale will take place on Wednesday the 17th of February 2021 from 11h00 at Mulberry Grove, Cradock and on the BKB Digital Auctions Platform.
Route: Take the N10 from Cradock to Middelburg for 36.3 km and turn left onto the gravel road.  Follow the BKB signs to the farm entrance.
Click here to view event pamphlet
Click here to view the digital auction catalogue
On Offer:
Enquiries:
Acton  073 257 8048
Jacques  082 446 0780
Charl (BKB)  082 374 3192
Willem  082 893 4997
Auctioneer:  Danie Strauss  072 585 4028