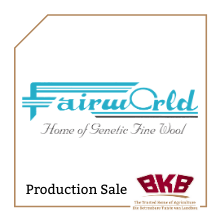 FAIRWORLD MERINOS INFORMATION
The Fairworld Merinos Simulcast Production sale will take place on Wednesday the 16th of February 2022 from 11h00 at Mulberry Grove, Cradock and on the BKB Digital Auctions Platform.
Route: Take the N10 from Cradock to Middelburg for 36.3 km and turn left onto the gravel road.  Follow the BKB signs to the farm entrance.
Click here to view event pamphlet
Click here to view digital auction catalogue
On Offer:
Digital Auction information:
Log in details will be emailed within 30 minutes of registration
Contact Chrisna 082 957 8827 if help is needed.
Enquiries:
Acton  073 257 8048
Jacques  082 446 0780