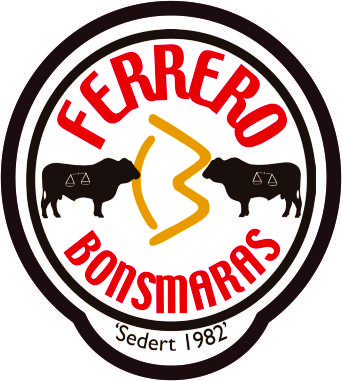 Ferrero Bonsmaras Jaarlikse Aanteelveiling INFORMATION
FERRERO BONSMARAS
3de Aanteelveiling
Dinsdag, 25 Februarie 2020 om 11:00 te Grootdraai, Harrismith
Geteel om te floreer op die veld!
Vir die afgelope drie jaar het Ferrero Bonsmaras ongeveer 2 300 kommersiële vroulike diere verkoop aan baie tevrede kliënte. Vanjaar het hul ongeveer 1 121 uitstekende bonsmaras op aanbod!
Aanbod sluit in:
264 Koeie met 264 kalwers (3-in-1)
66 Koeie met 66 kalwers (loop by bul)
75% is eerste en tweede kalf koeie
96 Koeie (swaardragtig of met kalwers)
110 Verse (swaardragtig of met kalwers)
170 Dragtige verse (kalf Aug – Nov 2020)
85 Oop verse (+/- 22 maande oud en gereed vir die bul)
*Nota:  Dragtigheidstatus en katalogus inliging sal dag van veiling beskikbaar wees.
Alle somerkalwers reeds:
Geënt teen alle sponssiekte stamme
Gedoseer vir melklintwurm
Verskalwers is ook S19 (Brusellose) geënt
Alle diere is van een eienaar te sien op die plaas in 'n bek-en-klou vrye area. Gesonde kuddes wat Brusellose- en Trichomoniase vry is, is op aanbod.
Ferrero Bonsmaras Jaarlikse Aanteelveiling GALLERY
Ferrero Bonsmaras Jaarlikse Aanteelveiling VIDEOS