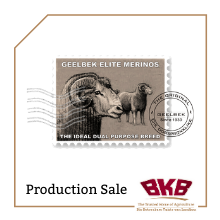 GEELBEK ELITE MERINOS SALE INFORMATION
---
The Geelbek Elite Merinos Simulcast Production Sale takes place on 27 January 2021 from 11:00 at Leopardsvlei, Middelburg.
90 years of genetic excellence, veld reared, and good value for money.
Organised viewing of rams can be arranged in advance.
Rams will be exhibited on the day of the auction.
You will be able to bid from Leopardsvlei.
Rams can be viewed by appointment after 14 January 2021 or from 8:00 on day of sale.
GPS: 31°32'00.21″ S   24°27'17.07″ E
10 or more Rams will be delivered as well as rams bought online.
Click here to view event pamphlet
Follow this link to view the event catalogue
On Offer:
---
Enquires:
Piet Venter (BKB): 082 772 4546
Adri de Klerk (BKB): 082 825 3892
Danie Lombard (BKB): 082 463 8822
Francois Viljoen: 082 811 5428
Marnitz Fourie: 082 491 5183
Eric Naude: 049 842 3032
Stefan Naude: 072 639 2185
Danie Strauss (BKB auctioneer): 072 585 4028