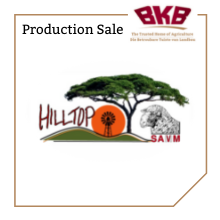 7TH HILLTOP SAMM STUD PRODUCTION SALE INFORMATION
---
The 7th production sale of Hilltop SAMM Stud will takes place on Tuesday, 29 June 2021 from 11:00 at the Heilbron Golf Club. In accordance with Covid-19 safety regulations only buyers will be allowed day of sale.
On offer: 
– 45 SP rams (all from multiples; tested fertile).
– 50 SP ewes (with lambs; in lamb ewes; young open ewes).
– 250 Commercial ewes (2 – 4 tooth; in lamb; to lamb 15 August to 15 September).
* Note: Viewing dates: Friday, 25 June and Saturday, 26 June. Gestation status and catalogue information will be available day of sale. Under auspice of the SAMM Breeders society.
---
Enquiries:
Piet Boshoff 082 210 7135
Faans Pretorius 083 232 9627
Danie de Wet (sheep and wool adviser) 082 772 4537
Karel du Plessis (sheep and wool adviser) 082 826 3244
Auctioneer: Jan Mostert 083 306 8408
BKBLouwid, FRANKFORT: 058 813 1071
Auction pamphlet:
– Click here to view front page of auction pamphlet
– Click here to view back page of auction pamphlet
Auction catalogue:
–Click here to view auction catalogue