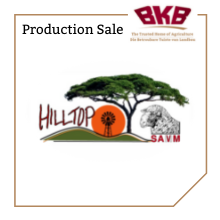 8TH HILLTOP SAMM STUD PRODUCTION SALE INFORMATION
---
The 8th production sale of Hilltop SAMM Stud will takes place on Tuesday, 28 June 2022 from 11:00 at the Heilbron Golf Club. Auction on terrain and digital!
On offer: 
– 2 Proven stud sires.
– 50 Stud rams (90% multiples).
– 70 Stud ewes.
– 150 Commercial ewes.
* Note: Gestation status and catalogue information will be available day of sale. Under auspice of the SAMM Breeders society.
---
Enquiries:
Faans Pretorius 083 232 9627
Sheep & Wool Officer: Danie de Wet 082 772 4537
Jan Hendrik Claassen 074 490 5451
Auctioneer: Jan Mostert 083 306 8408
BKB, FRANKFORT: 058 813 1071
Save the date auction pamphlet:
– Click here to view save the date auction pamphlet
Auction catalogue:
– Click here to view auction catalogue