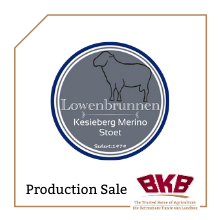 KESIEBERG MERINOS PRODUCTION SALE INFORMATION
The Kesieberg Merinos Production Sale will take place on Wednesday the 2nd of February 2022 from 11h00 at Leeuwfontein, Burgersdorp.
Click here to view event pamphlet
On Offer:
45 Rams
150 Pregnant Merino Ewes (3 months wool)
Route: Drive on the R391 from Burgersdorp to Steynsburg for 20km and turn right onto the gravel road.  Follow the BKB signs.
GPS: 31°07'28.0″ S  26°11'08.1″E
Enquiries:
Jan van der Walt (BKB)  082 376 6178
Jovaan Cloete (BKB)  079 575 0795
Willie Henning  087 550 1185
Herman Henning  072 207 1269
Auctioneer:  JP Marais (BKB)  060 551 6537