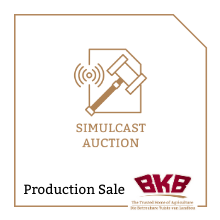 KINKO DORMER PRODUCTION SIMULCAST AUCTION INFORMATION
Kinko Dormers Production Auction is a simulcast auction that takes place on Kinko Farm, Swellendam as well as the BKB online platform on Wednesday 28th July 2021 from 11:00am.
The auction is being held under strict COVID-19 measures.
On Offer
20 SP Rams
40 SP Ewe (Been with Ram – Pregnant)
20 Young Commercial Open Ewes
60 Commercial Rams
40 Young Open Ewes
Click here for Digital Catalogue
Auctioneers note:
Log in details will be emailed within 30 minutes of registration
Contact Chrisna 082 957 8827 if help is needed.
Enquiries
Marius van Aarde (Marketer, Swellendam): 082 895 8874
Gielie Liebenberg (Marketer, Swellendam): 082 771 6552
Kobus Louw (Sheep & Wool): 082 576 1699
Carl Malherbe (Auctioneer): 082 496 3446