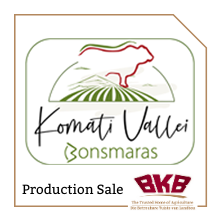 Komati Vallei Bonsmaras – 1st Production Sale INFORMATION
KOMATI VALLEI BONSMARAS 1st PRODUCTION SALE
Komati Vallei Bonsmaras 1st Production sale takes place on Tuesday, 30 March 2021 from 11:00 in the Carolina district.
On behalf of Komati Vallei Bonsmaras
Offer:
±30 Registered bulls
±40 Pregnant heifers – SP and commercial
±40 Commercial cows with calves
±65 Commercial cows for slaughter
Click to view catalogue
Notes:
Registered herd since 1 April 2011
Herd is CA clean
All animals vaccinated against Black quarter disease, Lumpy skin disease, Anthrax and Botulism + BVD
Bulls are Trich & Vibriosis clean
Fertility and pregnancy status available on auction day
GENETICS from: ADV / AG / BDX / BZ / JMP / LAR / PHR / SYF.
Route:
From Carolina – Take the eNtokozweni road (R36) for 15km.
Auction on the right
Follow direction indicators
.
Enquiries:
Rocco van Rooyen 082 799 2776
Moolman Mentz 083 229 2500
Frik Verster 082 652 2132