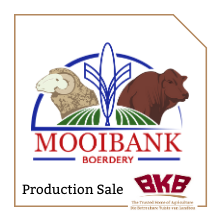 MOOIBANK FARMING PRODUCTION SALE INFORMATION
The 15th Mooibank Farming Production Sale of Beefmaster cattle and Merino sheep (On behalf of Mr Corneels and Jannie Greyling) will take place on Tuesday, 12 January 2020 from 11:00 on the farm Langkloof, district Wakkerstroom.
On Offer:
Beefmasters:
200 Cows with calves
100 Pregnant cows
40 Pregnant heifers
Cows and heifers will calf in March to April
Merino sheep:
1200 Pregnant ewes – 2 to 6 teeth
1200 Pregnant ewes – 6 teeth to full-mouthed
Ewes will lamb in March and have three months wool
Route:
From Amersfoort – Take the Piet Retief road for 1km, turn right on the Donkerhoek road and drive for 15km up to the fork in the road, keep left and drive for 12km up to the T-junction. Turn left on the Donkerhoek road for 600m. Keep left at the fork, direction Donkerhoek, for 3km up to the T-junction. Turn right on the Waterval road and drive for 1km. Farm on the left.
From Wakkerstroom – Take the Amersfoort road for 20km, turn right on the Driefontein road. Take the Donkerhoek road for 20km.
Enquiries:
Hannes Hugo       082 823 7631
Moolman Mentz  083 229 2500
Wool officer: Mathys Viljoen 082 772 4542
Auctioneers:
Dirk van der Schyff   071 574 3623
Frik Verster                 082 652 2132
MOOIBANK FARMING PRODUCTION SALE GALLERY