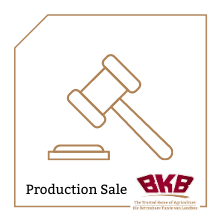 NATIONAL AFRINO & SOUTH-FREESTATE MERINO VELDRAM AUCTION INFORMATION
The National Afrino & South Freestate Merino Veldram Sale will take place on Tuesday 8 February 2022 from 11:00 on the farm Zuurfontein, Bethulie.
Route:
From Springfontein: Drive on the Bethulie road (R715) for 14km. Turn left into the farm.
From Bethulie: Drive on the Springfontein road (R715) for 18.6km.  Turn right in to the farm.
Click here to view event pamphlet
Offer:
50 Afrino Rams
45 Merino Rams
Enquiries:
Abrie Griesel  082 688 0200
Jan Joubert (BKB)  082 573 4980
Martiens le Roux  082 772 9472
Auctioneer: JP Marais (BKB)  060 551 6537