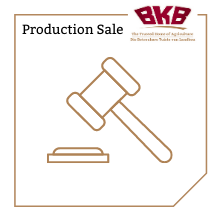 NICO KRIEK & FRIENDS BREEDING SALE INFORMATION
---
The top red breeding cattle sale of van Nico Kriek and friends will take place on Thursday, 18 February 2021 from 11:00 at Welgeluk, Reitz. Auction will be held under strict Covid-19 safety regulations.
On offer:
– 10 Cows with 10 calves (confirmed 3-in-1).
– 15 Heifers (open).
– 113 Heifers (in calf).
– 40 Heifers AI-ed with Angus Bulls.
– 60 Heifers (bull mature).
– 20 Cows (possibly in calf; running with bull).
* Note:  The herd consists of top red Sussex and Bovelder heifers. Heifers inoculated with RB51, a complete inoculation programme is followed. Gestation status and catalogue information will be available day of sale.
---
Route:
– From Reitz:  Drive on the Kestell road (R57) for 24km. Turn left at farm entrance.
– From Kestell:  Drive on the Reitz road (R57) for 42km. Turn right at farm entrance.
Enquiries:
Sakkie van Rensburg 082 562 0937
Auctioneer: Jan Mostert 083 306 8408
BKB Louwid, BETHLEHEM: 058 303 8552
Auction pamphlets:
– Click here to view front page of auction pamphlet