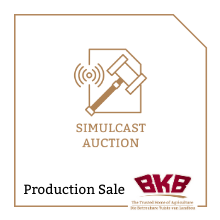 OVERVAAL DEXTER CLUB SALE INFORMATION
13th OVERVAAL DEXTER CLUB PRODUCTION SALE
Dexter auction take place on Saturday, 13 March 2021 from 11:00 at the Willem Prinsloo Agricultural Museum, district Rayton
On offer::
3 Bulls
7 Cows with calves
12 Cows – some pregnant and some with the bulls
25 Heifers
21 Weaners
10 Supers
Click to view digital catalogue
Route:
At Willem Prinsloo Agricultural Museum near Rayton
Auctioneers notes:
Registrations: http:/www.bkb.co.za/digital-auctions/
Or scan the QR Code for registration.
"Log in detail" is emailed, within 30min of registration.
Contact Chrisna 082 957 8827 if help is needed.
Enquiries:
Wim de Beer 063 514 1035
Moolman Mentz 083 229 2500
Billy Lyons 082 785 5498