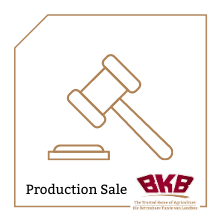 PRO GENEPOEL (HARTMAN, GRIESEL & VAN NIEKERK) SALE INFORMATION
---
The Pro Genepoel (Hartman, Griesel and Van Niekerk) sale will take place on Thursday, 24 February 2022 from 11:00 at the Kroon Boma in Kroonstad.
On offer:
130 Top SAMM sheep, consisting of:
– 30 SP rams.
– 100 SP/commercial ewes (possibly in lamb)
* Note: Gestation status and catalogue information will be available day of sale. Under auspices of the SAMM Breeders Society.
---
Breeders:
Gerhard Hartman 082 550 7196
Martie Griesel 071 473 4174
Manie Van Niekerk 082 550 3890
Enquiries:
Karel Du Plessis (sheep and wool adviser) 082 826 3244
Auctioneer: Jan Mostert 083 306 8408
Auction pamphlet:
– Click here to view auction pamphlet
Auction catalogue:
– Click here to view auction catalogue