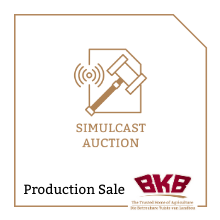 PRODUCTION SALE – DEXTER CATTLE INFORMATION
The Simulcast Production Sale of commercial Dexters on behalf of Menkor Dexters and quest sellers will take place on the 20th of February 2021 from 11:00.
Auction without reserves!
On Offer
9 Cows with calves
23 Pregnant cows
14 Pregnant heifers
3 Open heifers
9 Bulls
Auctioneers note:
Colors include black, red and dun
Auction not under the auspices of the Society.
Registration: http://www.bkb.co.za/digital-auctions/
Log in details will be emailed within 30 minutes of registration
Contact Chrisna 082 957 8827 if help is needed.
Route:
From N1 Western Bypass Randpark – Take Beyers Naude street (M5) direction Northcliff / Honeydew. Drive for 15km. Turn right into College Road. Drive for 2.6km. (follow direction indicators)
From N14 Krugersdorp – Take Beyers Naude street (M5) direction Randburg. Drive for 1.9km. Turn left into College Road. Drive for 2.6km. (follow direction indicators)
Enquiries:
Hannes Hugo          082 823 7631
Billy Lyons                082 785 5498
Moolman Mentz      083 229 2500
Dirk van der Schyff  071 574 3632