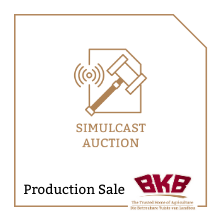 Romagnola Production Sale INFORMATION
ROMAGNOLA PRODUCTION SALE
The Simulcast Production Sale, on behalf of  I&W v/d Merwe Farming Pty. Ltd. selling as Golden Acres Romagnola, and guest seller Witin Romagnola. will take place on the 13th of October 2021 from 11:00 on the farm Golden Acres, Devon district.
On Offer:
34 SP Bulls
40 SP female animals
Commercial animals
Farming Equipment and scrap – see inventory
40% Shareholding in I&W v/d Merwe Farming Pty. Ltd.
Click to view digital catalogue
Click to view equipment list and photos
Digital Auction information:
Log in details will be emailed within 30 minutes of registration
Contact Chrisna 082 957 8827 if help is needed.
Enquiries:
Jurg Haywood 082 578 6241
Carel Davel 082 331 1811
Billy Lyons 082 785 5498
Harry v/d Merwe Golden Acres Romagnola       082 789 3134
Wikus v/d Merwe Witin Romagnola                    082 491 9730