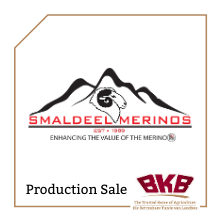 SMALDEEL MERINOS SILENT AUCTION INFORMATION
---
The Smaldeel Merinos Silent Auction will take place on Thursday 25 February 2021 from 12:00 at Annandale Farm, Adelaide.
Click here to view event pamphlet
Route:
From Bedford: In Adelaide, go halfway around the circle and turn right at the R344 turnoff to Tarkastad/Post Retief.  Drive 1,5 km and turn left.  Drive 6,7 km and turn right.  Drive 10,5 km and turn right to venue.
On Offer:
80 Top Quality Fine wool Merino Rams
30 JP Hobson angora Rams
Enquiries:
Ben Joubert: 082 772 2591
Brendan Wicks: 063 451 5076