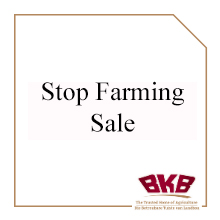 Stop Farming Sale – Rensburg Trust INFORMATION
STOP FARMING SALE
This Stop Farming sale on behalf of RENSBURG TRUST will take place on the 10th of August from 11:00 on the farm Syferfontein, Delmas district.
On Offer:
Livestock
Tractors
Vehicles
Trailers
Hay and feed equipment
Sprayers
Ploughs
Irrigation pipes and a lot more
View the complete inventory below
Route:
From Endicott – Take the R24 direction Delmas for 8km, turn right onto the Strydpanpad, drive for ± 4km. Turn right, drive for ± 3km, farm on left.
From Delmas – Take the R50 Leandra Road for 7km. Turn right onto Devon road and drive for ± 15km. Turn right at the Morgan Beef sign. Drive for 6km, turn left at the fork. Drive for 2km, farm on the left
Enquiries:
Jurg Haywood            082 578 6241
Carel Davel                 082 331 1811
Billy Lyons                 082 785 5498
Stop Farming Sale – Rensburg Trust VIDEOS