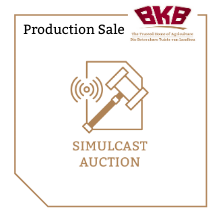 SUTHERLAND KAROO MEATMASTER CLUB SALE INFORMATION
The Sutherland Karoo Meatmaster Club Sale will take place on Thursday, the 25th of March 2021 from 11:00 at Sutherland Showgrounds and on the BKB Digital Auction Platform.
From the worst drought in memory, the hardiest Meatmasters are on offer.
On offer:
310 Meatmaster Sheep
30 Rams
280 Ewes (Register/Commercial; in all production phases)
Contact Willie de Lange on 083 448 2930 for all transport of animals.
Principle auction selector: Clynton Collett
SA Studbook registered commercial animals, performance-tested with excellent BLUP values.
Large commercial lots are planned.
Enquiries
Anna-Marie Kotze (Marketer, Sutherland) 066486 7818
Dieter Schutte (Auction Coordinator) 079 500 7525
Appie Maritz (Auctioneer) 082 825 3895
Andre van der Merwe (Chairman) 083 556 2828
Nickey Paulsen (Club Vice-Chairman) 083 413 0240