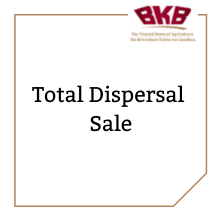 CANCELLED! SWAELKRANS TRUST & CO-SELLERS INFORMATION
---
CANCELLED! The Swaelkrans Trust & co-seller total dispersal sale of cattle herd will take place on Tuesday, 12 October 2021 from 11:00 on the farm Skoonuitsig, Heilbron. In accordance with Covid-19 safety regulations only buyers will be allowed day of sale.
On offer:
– 160 Cows with 160 calves.
– 320 Cows (in calf).
– 200 Heifers (bull mature).
* Note: All cows on the auction tested CA negative. Gestation status and catalogue information will be available day of sale.
---
Route:
– From Frankfort: Drive on the Heilbron road (R34) for 50km.Turn right at farm entrance.
– From Heilbron: Drive on the Frankfort road (R34) for 3km. Turn left at farm entrance.
Enquiries:
Bertus Linde 079 679 1718
Auctioneer: Jan Mostert 083 306 8408
BKBLouwid, FRANKFORT
Auction pamphlet:
– Click here to view front page of auction pamphlet
– Click here to view back page of auction pamphlet