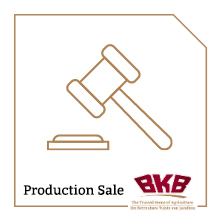 THE DORMER PRODUCTION SALE INFORMATION
---
Thé Dormer production sale will take place on Saturday, 12 March 2022 from 11:00 at the Royal Auction Centre in Frankfort.
On offer:
– 40 SP rams.
– 50 Registered ewes.
* Note: Auction will be held under the auspices of the Dormer Breeders Society. Gestation status and catalogue information will be available day of sale.
---
Breeders:
Andrew Jordaan Dormers
Sanctuary Dormers
JOR Dormers
Enquiries:
Deon Stegmann 079 878 2109
Bertus Linde 079 679 1718
Auctioneer: Danie Strauss 072 585 4028
BKB, FRANKFORT: 058 813 7014
Auction pamphlet:
Auction catalogue:
– Click here to view auction catalogue