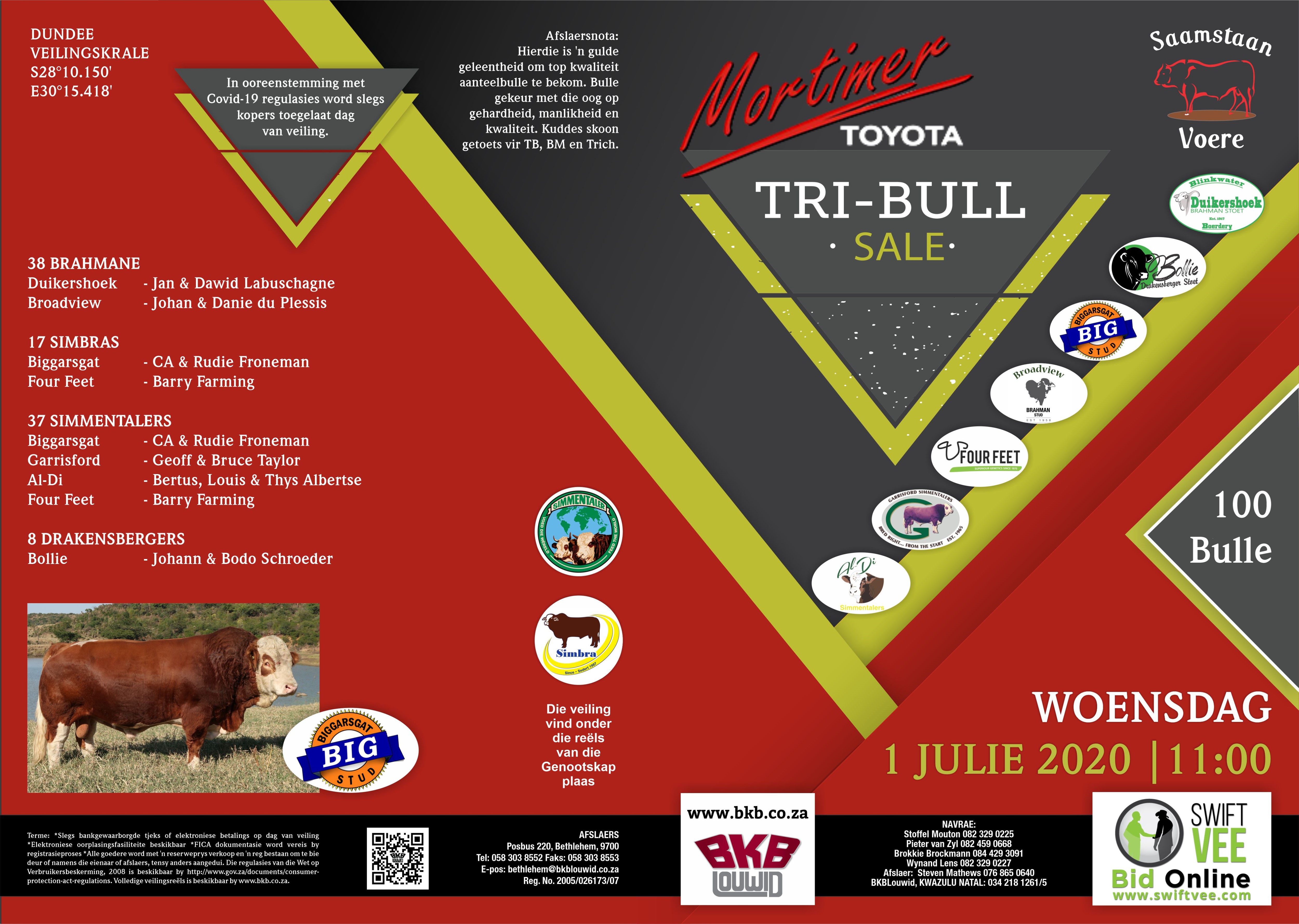 TRI-BULL BREEDERS SALE INFORMATION
---
Join us on 1 July 2020 from 11:00 for the Tri-Bull Sale at Dundee Auction Pens.
100 Bulls are on offer, including:
38 Brahmans
Duikershoek (Jan & Dawid Labuschagne)
Broadview (Johan & Danie du Plessis)
17 Simbras
Biggarsgat (CA & Rudie Froneman)
Four Feet (Barry Farming)
37 Simmentalers
Biggarsgat (CA & rudie Froneman)
Garrisford (Geoff & Bruce Taylor)
Al-Di (Bertus, Louis & Thys Albertse)
Four Feet (Barry Farming)
8 Drakensbergers
Bollie (Johann & Bodo Schroeder)
* Auctioneers note: 
This is a great opportunity to acquire top quality breeding bulls. Bulls selected for hardiness, masculinity and quality. Herds tested clean for TB, CA and Trich.
Auction-site GPS co-ordinates:
Enquiries: 
Stoffel Mouton: 082 329 0225
Pieter van Zyl: 082 459 0668
Brokkie Brockmann: 084 429 3091
Wynand Lens: 082 329 0227
Auctioneer: Steven Mathews: 076 865 0640
BKBLouwid, KWAZULU NATAL: 034 218 1261/5
Event Pamphlets:
Event Catalogue:
Video: