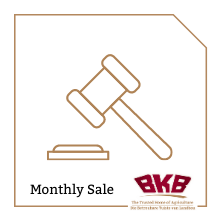 Vrede monthly Sale INFORMATION
The Vrede Monthly Sale takes place every second Tuesday of the month from 11:00 at the Vrede Auction Complex.
Dutch Reformed Church  Vrede fundraising auction
Offer:
Also on sale on behalf of the church:
Property for rent:
Description:    1) Remaining portion of the farm Oakville nr 643 – 736.61ha & 2) Farm Utopia no. 1190 – 171.31ha
Total size:       907.92ha
Locality:         District Vrede. ± 12km West of N3 on the S589. Bordered by the Willow River.
Grazing:       14 Camps
Arable land:   91.89ha
Water:           6 x Ground dams, 2 x Fountains, 3 x Wind Pump and a Sprout
Improvements: House – 3 x Bedrooms
1 x Bathroom
Kitchen
Living room
Dining room
Porch
Electricity: Eskom
Water rights with a permit for 130 540m³ per year are auctioned separately.
Enquiries:
Gerrit Theunissen       082 331 2037
Carel Davel                 082 331 1811
Billy Lyons                  082 785 5498
Frik Verster                082 652 2132