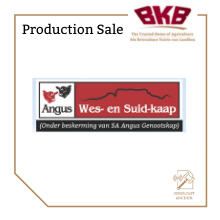 WESTERN-& SOUTHERN CAPE ANGUSCLUB MOORREESBURG SIMULCAST AUCTION INFORMATION
This is the yearly Western-& Southern Cape Angus club Auction. It is also a Simulcast auction will take place on 3 June 2021 from 11:00am  at Moorreesburg show grounds, and on the BKB Digital Auction Platform.
The auction is being held under strict COVID-19 measures.
On Offer
Bull Parade at 10:30
80 Top Red and Black Angus Cattle
25 Red & Black Bulls
55 Red & Black Registered & Commercial Female animals made up of Cows and Heifers in all production stages
Click here for Digital Auction Catalogue
Enquiries
Carl Malherbe, Paarl: 082 496 3446 – Auctioneer
Simon Matthysen, Moorreesburg: 082 312 1036 – Marketer
Wilhelm van Niekerk, Malmesbury: 083 284 7100 – Marketer
Hoffie van Blerk, Malmesbury: 083 455 1151 – Club President