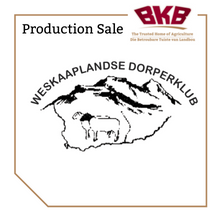 WESTERN CAPE DORPER CLUB SIMULCAST SALE INFORMATION
Western Cape Dorper Club Simulcast Sale takes place at Steilhoogte Primary School and on the BKB Digital Platform, on Thursday 7 October 2021 from 11:00am.
The auction is being held under strict COVID-19 measures.
On Offer
78 Dorper Rams
47 White Dorper Rams
15 Dorper Ewes
Click here for Digital Catalogue
Digital Auction information:
Log in details will be emailed within 30 minutes of registration
Contact Chrisna 082 957 8827 if help is needed.
Enquiries
Riaan le Roux (Dorperklub, Williston): 083 503 7839 / 060 383 8866
Nellis Louw (BKB Marketer): 083 441 4032
Appie Maritz (Auctioneer): 082 825 3995