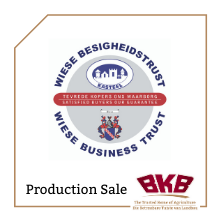 WIESE BESIGHEIDSTRUST PRODUCTION SALE INFORMATION
---
The Wiese Besigheidstrust Production Sale will take place on Thursday 30 September 2021 from 11:00 at Kasteel, Loxton, and the BKB Digital Auctions Platform.
Click here to view event pamphlet
Route: From Loxton – Drive on Carnarvon street in a North Western direction for 10.3km.  Turn right.  Drive for 10.5km until you reach Kasteel.
GPS for Airstrip S 30°24′ E 22°12′ Runway 09-27, 1345 HEIGHT
Offer:
50 White Dorper Rams
100 White Dorper Ewes
30 Dorper Rams
30 Dorper Ewes
10 Van Rooy Rams
10 Boer Goat Rams
+- 150 Boer Goat Ewes
Digital Auction information:
Log in details will be emailed within 30 minutes of registration
Contact Chrisna 082 957 8827 if help is needed.
Enquiries:
Dries Wiese 082 809 2949
Pieter Wiese 063 041 6769
Daan Bosman 082 929 8406
Corne Nel (BKB) 082 410 8898
Adrie de Klerk (BKB) 082 825 3892
Danie Strauss (BKB) 072 585 4028
Ters Marais (Auctioneer) 082 784 6860