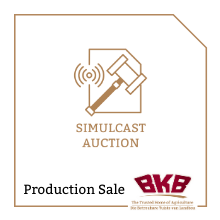 Bloemendal Bonsmaras Production Sale INFORMATION
BLOEMENDAL BONSMARAS PRODUCTION SALE
The Bloemendal Bonsmaras Simulcast Production Sale will take place on the 17th of August 2022 from 11:00 on the farm Nooitgedacht, Delmas district and BKB Digital Auctions.
On Offer:
20 Bulls
50 Female animals
Click to view digital catalogue:
Digital Auction Information:
Registrations: https://bkb.agribidder.co.za/login
Activation mail is emailed within 30min of registration.
Contact Chrisna at 082 957 8827 if help is needed.
Enquiries:
Jurg Haywood 082 578 6241
Carel Davel 082 331 1811
Billy Lyons 082 785 5498
Bloemendal Bonsmaras Production Sale GALLERY
Bloemendal Bonsmaras Production Sale VIDEOS