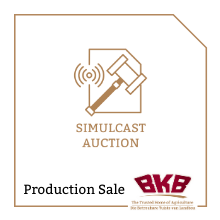 Hirsaw Livestock Bovelder Production Sale INFORMATION
HIRSAW LIVESTOCK BOVELDER PRODUCTION SALE
The Simulcast Hirsaw Livestock Bovelder Production Sale will take place on the 13th of July from 11:00 on the farm Grootvlei, Trichardt district.
A Hirsaw Bovelder Herd Day is presented on the 13th of April 2022.
On Offer: Information follows
Click to view pamphlet:
Click to view photos:
Click to view catalogue:
Click to view digital catalogue:
Route:
From Bethal – Take the N17 direction Secunda for 24km. Turn left on the Charl Cilliers / Trichardt road and drive for 5.6km. Farm on the left.
From Charl Cilliers – Take the R546 direction Secunda for 3km. Turn right on the Trichardt road and drive for 16.2km. Farm on the right.
Digital Auction information:
Registration: https://bkb.agribidder.co.za/register
Once registered activate your account.
After activation, register your paddle (Bid number) for the sale you would to attend.
Contact Chrisna 082 957 8827 if help is needed.
Enquiries:
Tielie Crawford          082 331 2038
Carel Davel                 082 331 1811
Billy Lyons                 082 785 5498
Frik Verster                 082 652 2132
Hirsaw Livestock Bovelder Production Sale VIDEOS